The future is now in the marketing world. But how do you market something as intangible as a property coming soon? Using a community VR tour for pre-leasing residences allows potential tenants to see themselves enjoying life and the amenities at your property.
Pre-leasing a new development is challenging. You're tasked with filling in as many units as possible before having a physical property. And although the property may have the allure of being "brand new," that's not always enough to reach maximum occupancy. Pre-leasing helps a property lease units before they have "turned," or finished with construction. With innovations like 3D animations, there are plenty of ways to market new construction, fill vacancies and build awareness for upcoming properties.
Make an Impact Viewers Will Remember with a Community VR Tour
Today, marketing new developments require digital content that must be both eye-catching and shareable. A pre-construction lease-up needs specific tactics to bring people in before construction ends.
Today, much of a consumer's experience with a company includes zero human interaction. You can't rely on in-person tours anymore. Today's potential buyers need 3D visuals to allow them to feel the property for themselves and create a connection with the space.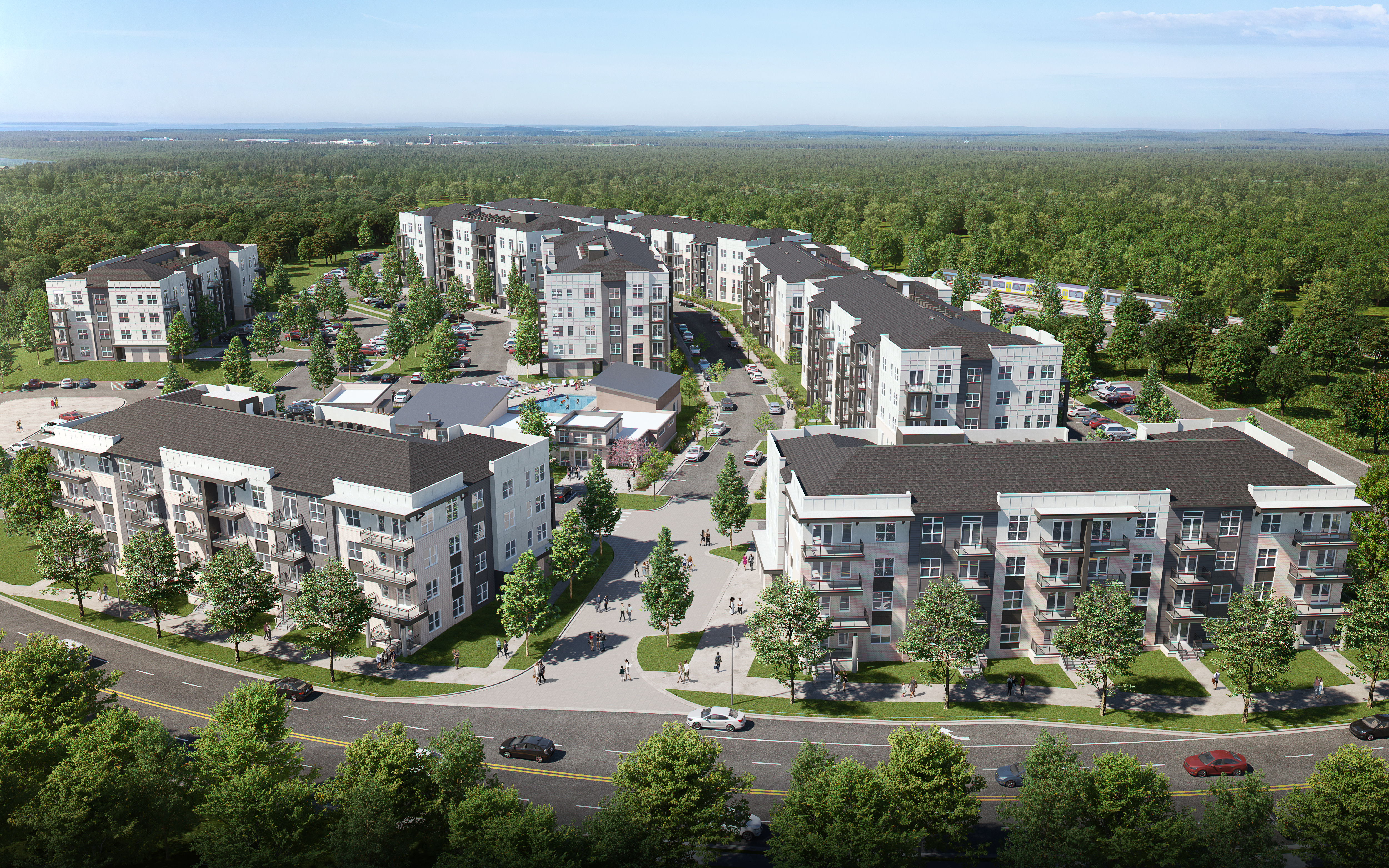 3D virtual reality tours for pre-leasing create a seamless online experience, inviting people into your property from wherever they are.
Using today's virtual reality tools can positively impact potential apartment renters. The average renter is significantly less likely to sign a lease from seeing a rendering than they are from adding high-resolution photography or a 3D walkthrough, according to Forbes. These more robust 3D visuals can give prospective residents the confidence to lease an apartment without physically seeing the space if they can't get to the property or it's unavailable to be seen. A rendering, while it may be photorealistic, is limited because it cannot tell the full story of the space. However, with a virtual reality tour, the viewer will have a 360-degree view of the space, creating a higher emotional connection with potential customers.
Pre-leasing for Multi-Family and Senior Living Residences
With virtual reality tours, buyers can get a closer look at any location from anywhere. When fully immersive virtual reality tours are included in pre-leasing for multi-family residences, the number of sight-unseen leases is likely to increase. Photorealistic representations of a project can include 3D virtual tours, 3D virtual reality or 360 interactive tours like this one that showcases a 300M Senior Living Development in Atlanta.
While using virtual tours might seem like an "extra," consider this: The National Association of Realtors published in their 2022 annual report that nearly half of all buyers use virtual tours to make a residential purchase. High-quality tours allow would-be tenants to see what units will look like, how light moves through the space, the level of finishes, the size of rooms and much more.
Without 3D tours in your marketing strategy, you could miss out on capturing valuable leads and converting those leads into deposits. These videos can also help showcase the surrounding area and community. As with any selling tool, it's smart to consider the customers' experience while using virtual reality tours for pre-leasing. Using music, voice-overs or natural sounds like traffic, ocean waves or birds chirping will help delight all of the viewer's senses.

Virtual reality technology has innovated many industries, such as architecture and real estate. Virtual reality tours can be much more memorable than 3D renders and even animations, leading to a higher chance of getting projects approved or properties sold.
Users can see more than their future home as a finished product and take in the atmosphere of the place as if they are already living there. Advanced technology also allows users to move objects and change the scene, providing a unique sense of ownership. It is extremely handy as an interactive instruction manual for tenants of rented homes.
Today's technology makes it possible to use virtual reality from the comfort of one's home or miles away without expensive setups, providing investors and potential buyers with virtual tours on the go.
Interested in Community VR Tours that Boost Pre-Leasing?
MaxWave3D is ready to answer any questions about virtual reality tours for pre-leasing. Start the conversation and get started showcasing your one-of-a-kind property.
Build Your Own Photorealistic Visuals with MaxWave3D
At MaxWave3D, we strive to exceed all of your expectations, giving your agency enough time and talent to fulfill every project efficiently. Not only are we experienced in the creation of digital assets, but we also help you integrate these assets into your presentations, websites, social media and other marketing channels.