The Ravelle at Ridgeview, a beautiful apartment complex surrounded by mountain vistas and located just a short drive from downtown Nashville, Tennessee, is set to open in February 2023. This planned multi-family living complex will have much to offer, from a fitness space, pool and tanning deck, to elegant apartments with sunset views. The developers needed help showing the unbuilt space in the best possible light to potential residents with 3D apartment renderings.
Challenge: Showing Potential Residents Amenities and What's to Come
The Ravelle wanted its potential residents to know about their development and its many amenities but needed a better way to show interested parties, particularly through videos and animations.
"Our goal was to attack pre-leasing in a pretty aggressive way," said Steve Mitchell, vice president of marketing at The Ravelle. "We've found that this worked for our other properties. We created surveys of our other properties, and we know how important videos are on our Google analytics."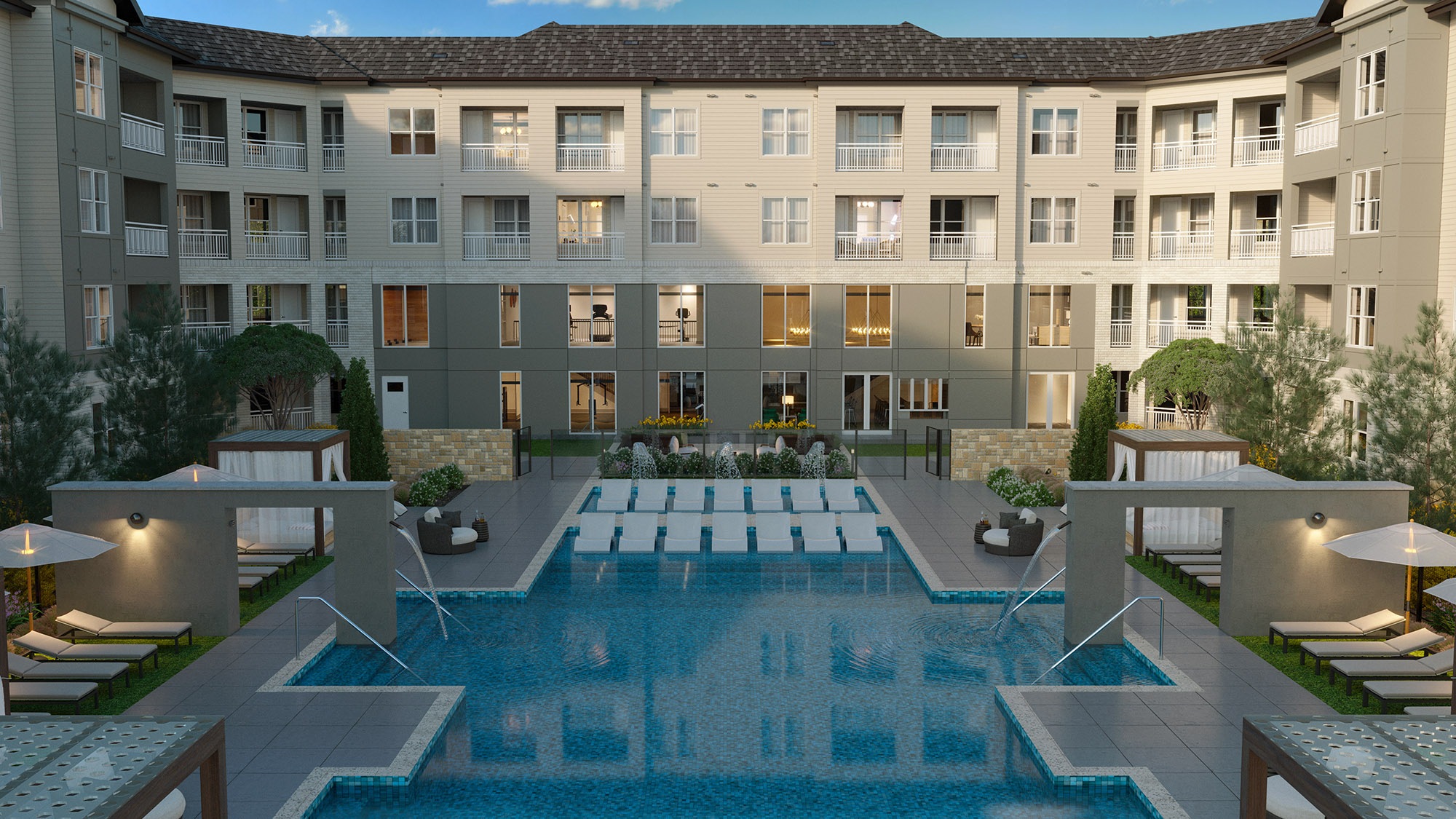 Solution: Realistic 3D Apartment Renderings
The Ravelle's leadership commissioned MaxWave3D to capture their new project with realistic renderings, 3D animations and virtual tours to fill pre-leasing needs.
MaxWave3D worked closely with the team at The Ravelle to gather architectural files, interior files and drone photography to create a virtual tour of the grounds. The marketing team at The Ravelle used the animations to create additional assets for social media such as interviews, b-roll footage of the area, floor plans and spotlights that showcased the southern Nashville community.
"They took a lot of the materials we came up with and augmented them. So it's a cool blend and an example of how we can become a part of a developer's marketing agency and assist them with the deliverables. We give them everything they need for their storyboards," said Chris Powers, CEO of MaxWave3D.
Mitchell said the collaboration with MaxWave3D was simple, easy and very successful.
"We created six floor-plan tours and then recorded voice-overs with their renderings. We got great traffic online, which gave us leads for pre-leasing. It has proved vital during the pandemic, facing supply chain issues," he said. "We've been affected by that, and the opening date was moved back to February and that kept us from being on the property." The visualizations crafted by MaxWave3D allowed The Ravelle to show off what the property will look like, particularly through organic social media content.
Results: Some of the Best Marketing Tools for the Complex
The Ravelle creative team said they were able to use their realistic renderings, virtual tours and animations in a multitude of ways. They took advantage of the market and capitalized on it with the assets MaxWave created.
"We had people finding our ads online, even when we lowered our ad spend. People were coming to our site more than our competitors, quite frankly. It's been extremely useful in the pre-leasing process," Mitchell explains.
The videos turned out to be some of the best marketing tools the complex has used. The Ravelle utilized realistic renderings combined with voiceovers to create 30- and 15-second spots for social media and YouTube advertising. "We also used them in direct conversations with leads for pre-leasing," Mitchell said.
Success with Pre-leasing
Looking for 3D realistic renderings, 3D animations and 360 virtual tours to show off your future property? Contact MaxWave3D to begin successfully promoting your next project.
Build Your Own Photorealistic Visuals with MaxWave3D
At MaxWave3D, we strive to exceed all of your expectations, giving your agency enough time and talent to fulfill every project efficiently. Not only are we experienced in the creation of digital assets, but we also help you integrate these assets into your presentations, websites, social media and other marketing channels.