Lease-up season is brutal. In an overcrowded apartment leasing market and turbulent economy, it's sink or swim. So how do you get a leg-up on the competition? Here's your secret weapon: using 3D photorealistic images in your digital marketing strategy for leasing apartments.
Digital Marketing for Leasing Apartments Is Crucial
The world of leasing has changed. In the past, prospective tenants would visit just a few units in person before making a decision. In recent years, the leasing process has been flipped on its head. Like many other industries, the decision stage for real estate has moved online, becoming even more crowded. Instead of maybe two or three units, consumers can view up to 20 apartments without ever needing to leave their couch. In fact, approximately 80 percent of survey respondents said they research properties online before making an on-site visit. That means an apartment's digital presence can make or break whether a tenant even considers taking a tour – let alone signing a lease. That means black and white floor plans are not cutting it anymore. So how do you stand out? With 3D photorealistic images.
What Are 3D Photorealistic Images?
Photorealistic renderings are lifelike images that use virtual lighting, cameras and materials to bring your project to life. Since the images are technically 3D models, you can manipulate almost any detail: lighting temperature, season, time of day… even what constellations appear in the sky (if you're into that kind of thing).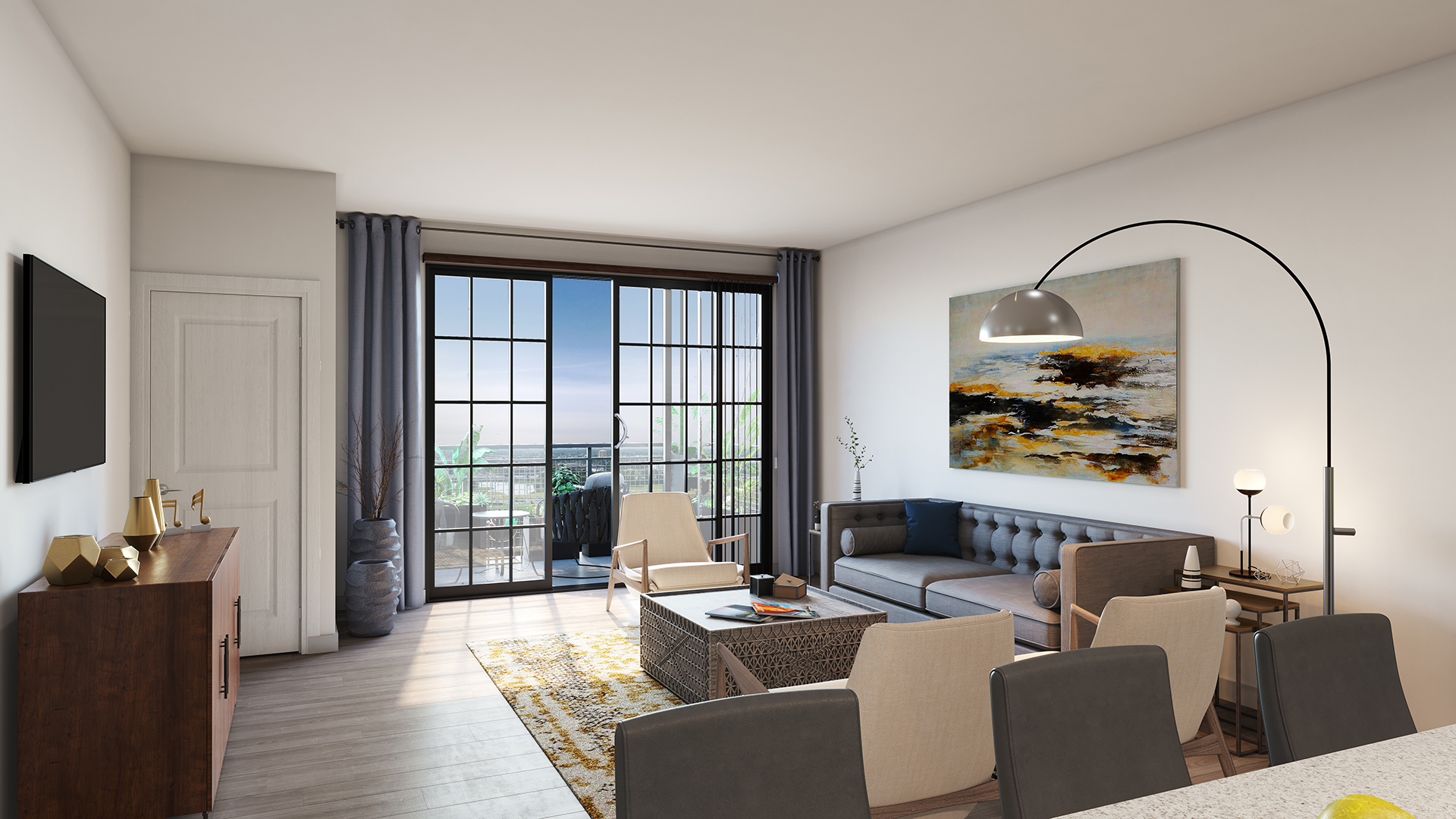 Get a Leg Up With Stunning 3D Visuals
Why do 3D photorealistic images work so well for leasing apartments? For one, they address these common leasing challenges:
Increased competition in the neighborhood
Tenants who are uneasy about renting a poorly documented apartment
An apartment community may be brand new or not established
Especially if the multi-family building hasn't been built yet, overcoming consumer doubts and hesitation is your number one priority. Plus in an overcrowded market, you want to reduce as much buyer friction as possible. Leveraging 3D visuals in your apartment listing can overcome these challenges because of four key benefits:
Convenience
One of the simplest reasons to use 3D renderings for leasing is plain old convenience. Tenants can take a tour of apartments from the comfort of their own home, which is a big boon for marketing. 3D visuals aren't just convenient for tenants, they're convenient for you, the developer or marketing manager. Having stunning and accurate photos of your apartment is an incredible asset for any successful marketing strategy. Plus, they can be endlessly repurposed to generate leads and tenants. 
Accuracy 
Not only are 3D images convenient, they are also extremely accurate. Unit dimensions, floor plans and even lighting are all readily available for future tenants to consider. Having this information at their fingertips makes decision making easier – and may give your building the upper hand with competitors. It also means cutting out the guesswork when new tenants are wondering if their beloved sofa will fit through the front door.
Perspective
Traditional floor plans often fail to illustrate the true impact of a space. With a 3D realistic rendering, you're marketing the finished product. Important details like lighting, ceiling height, flooring and appliances are ultimately what sells a unit. You can't capture these elements with a two dimensional line-drawing. Having fleshed-out visuals gives customers the confidence to sign a lease.
Confidence
On that note, our final benefit of using 3D visuals in your digital marketing is confidence. The most important leasing challenge to overcome is tenant doubts. When you're building a digital marketing campaign for leasing apartments, your visuals should drum up excitement, not uncertainty, in potential tenants. In the end, making your apartment building an easy choice is what will sign more leases.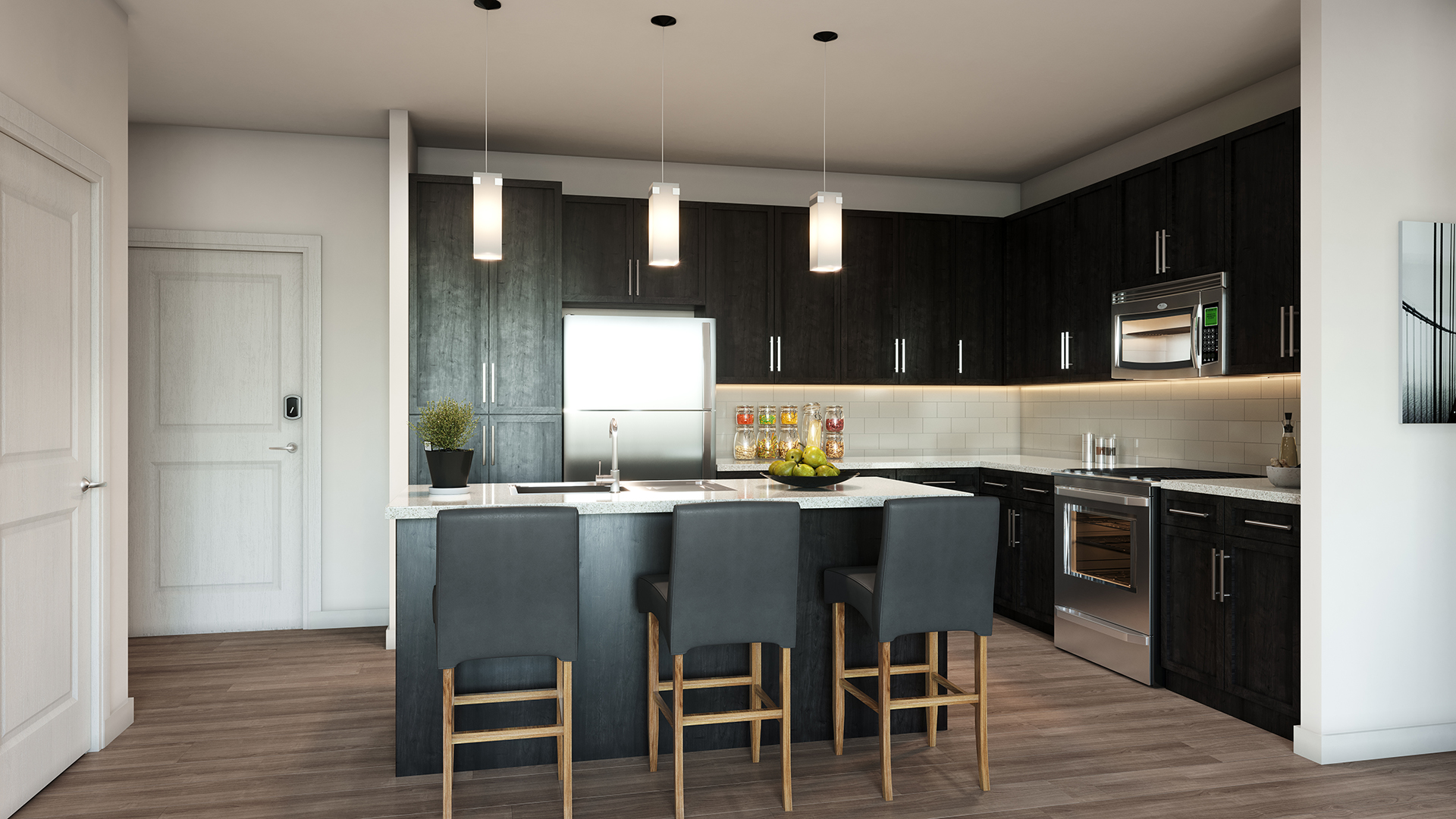 Need Showstopping Visuals for Your Apartment's Digital Marketing Campaign?
At MaxWave3D our digital visuals and brand-centric media experiences support new and ongoing marketing, sales and advertising initiatives. We're a go-to resource for developers, architects, builders, realtors and designers – literally any industry where visualization can sell an idea or push a concept forward. Ready to make your vision a reality?
Build Your Own Photorealistic Visuals with MaxWave3D
At MaxWave3D, we strive to exceed all of your expectations, giving your agency enough time and talent to fulfill every project efficiently. Not only are we experienced in the creation of digital assets, but we also help you integrate these assets into your presentations, websites, social media and other marketing channels.