BlueStar Studios, a movie production and training site located in Forest Park, Georgia, had their sights set on bringing state-of-the-art film and television production to the grounds of a former military base at Fort Gillem. Renderings to show what the movie production studio will look like and to use for press for this type of large scale development are a must.
The studio, backed by $180 million in investments, has a campus that will host 18 purpose-built stages with more than 600,000 square feet of space. The campus buildings will range in size from 5,000 square feet to more than 40,000 square feet. Productions will have access to two intersecting 100GB fiber lines for supporting all technical needs, including cloud services and virtual as well as traditional production. But with no way to show their future developments and plans to the public, the studio turned to MaxWave3D to create 3D photorealistic renderings.
Challenge: Showing What the Movie Studio Will Look Like
The studio was looking for a way to showcase the extent and excitement of the project to the city of Forest Park, investors and the general public, said CEO of BlueStar Studios, Rich Goldberg.
"We needed renderings just to show people what it looked like and we wanted to use them for press announcements. Frankly, we wanted to get people excited about it," Goldberg says.
Solution: Movie Studio 3D Renderings
BlueStar and MaxWave3D were connected through Allen Collins, vice president at Foley Design Associates, an architecture firm that specializes in film studio design. Allen suggested the  new collaboration and said he has worked on multiple projects over the past decade with MaxWave3D.
"No matter how straightforward or challenging our project requests are, we know we can rely on MaxWave3D to deliver top quality results," Collins said. He added that Foley Design's creative team benefited multiple times over from MaxWave3D's creativity and technical expertise.
"We really enjoyed working with Foley throughout the entire conceptual and design development process.  "One of our first tasks was to produce  a series of concept visuals and design options for the Stages," said Chris Powers, CEO of MaxWave3D. 
After the stage concept images were approved, we then developed more realistic Photomontage imagery for the rest of the site that combined day and evening drone photography together with the 3D campus..
This Photomontage technique provides the most realistic results and helps  the viewer  see the project clearly with all contextual backgrounds visible, including the proximity to the Airport and Downtown Atlanta said Chris Powers CEO of MaxWave3D.  
MaxWave3D went on to create a full suite of visuals and Parallax video that  BlueStar could use in their marketing deck and website. 
The visual assets were branded, published on the internet and sent to partners and those within the company.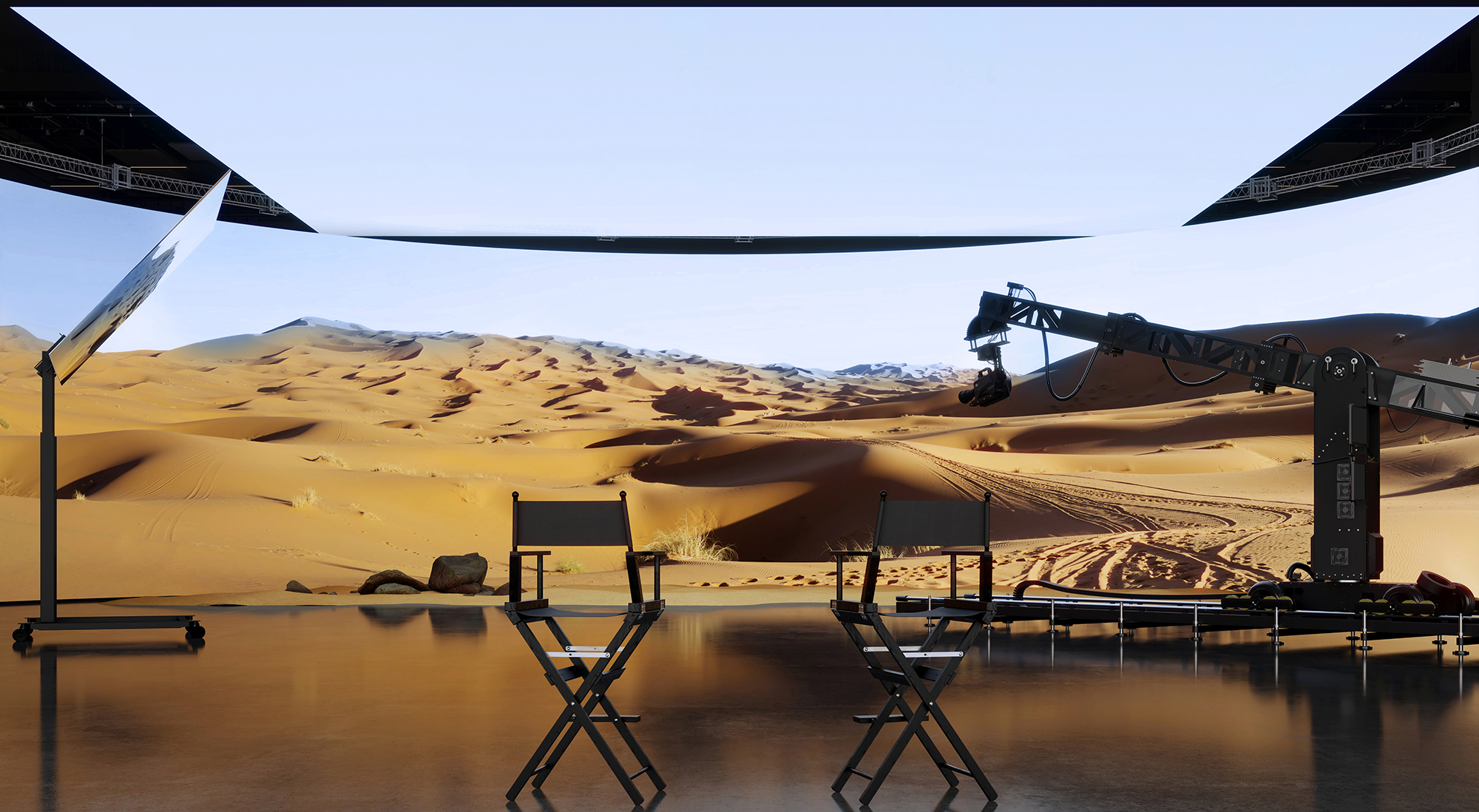 Results: Making the Project Development a Reality
MaxWave3D was also able to help the client obtain tax credits for the project, partly by showing the community the photorealistic visualizations and garnering support within Forest Park. This local interest led to the municipality giving BlueStar incentives to bring the project to their area.
BlueStar is meant to be a film studio and a training center for up-and-coming filmmakers. The client knew they wanted to target production companies as soon as possible. Powers said using the 3D renderings allowed BlueStar to show off its space and let potential preleasing customers know what their studios could offer, before construction.
The project is ongoing and moving quickly.  The studio is now in phase two of development, thanks in part to continued efforts by MaxWave3D.
"The fact that phase two has started while phase one is underway is exciting," Powers said.
His team will begin developing more 3D photorealistic renderings of the inside of Bluestar's headquarters, showcasing the history of the location and the industry, he said.
BlueStar Studios plans to open its doors in late summer 2023, Goldberg said. He added it's a bit early to have any tenants yet, but that the renderings are being used in the pre-lease sales pitches.
Overall, the studio continues to highlight the new landscape of Forest Park.
"I thought (the assets) were excellent," Goldberg added. "We used them on our website. We used it when we reached out with a PR firm. The renderings were used by the media to show people what the city would look like."
Want to Move Your Project Forward?
Are you looking for 3D photorealistic renderings, animations or virtual tours to showcase a future property? Contact MaxWave3D to begin telling your property's story and generating excitement with potential clients and stakeholders.
Build Your Own Photorealistic Visuals with MaxWave3D
At MaxWave3D, we strive to exceed all of your expectations, giving your agency enough time and talent to fulfill every project efficiently. Not only are we experienced in the creation of digital assets, but we also help you integrate these assets into your presentations, websites, social media and other marketing channels.